In short
people:
890000
language: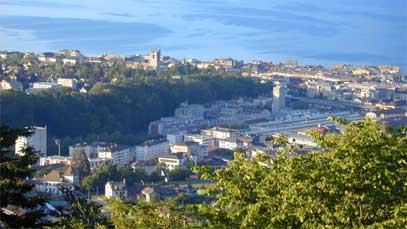 Lemanic Basin
With its exceptional environment, historic heritage and outstanding modern tourist infrastructure, the Lemanic Basin, or Lake Geneva Region, offers you a vast choice of sporting, cultural and leisure activities to fulfil your every desire and make your holiday a fantastic success. The region is ideal for both pleasure and business.
Geneva, the city, is the gateway to the Lake Geneva, an area located in Western Switzerland and the neighbouring Alps, which reaches from Geneva to Lausanne, Montreux to the majestic Rochers-de-Naye. Lemanic Basin constitutes a showcase of the entire country, with exceptional attractions, accommodations and natural beauty.
In the very heart of Europe, the region offers a first-class transport infrastructure, with easy access to any major European cities. Communications are among the most sophisticated in the world. People are open, welcoming and highly skilled, making this region an ideal location.
While each of these locales offers something entirely different - a special recipe, an architectural style, a slightly different taste of wine - they are joined in a common objective to share the latest news of French-speaking Switzerland's tourism offerings.
The Lemanic Basin (Lake Geneva Region) is a miniature version of Switzerland. Here you will fin peaceful lakes bordered by palm trees, the rolling wooded hills of the Jura, the delightful green landscapes of the southern part of the Countryside of Suisse Romande and the snowy summits of the Swiss Alps with their majestic glaciers.
The international airport is situated in Geneva, GVA-Cointrin International Airport.

Highlights
Geneva - International City, shopping and old Town
Lausanne - night life, old Town and shores of the Geneva Lake (Leman Lake)
Lavaux - vineyards in terrace, world inheritance of UNESCO
Montreux - mountain train for Rochers-de-Naye
Castle of Chillon