In short
people:
71000
language: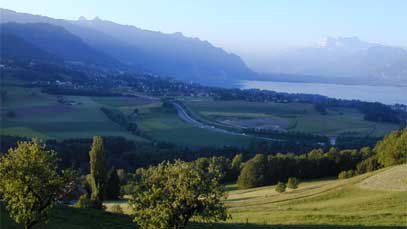 Prealpes region
The Prealpes region, named too Chablais, is one of the most beautiful and diverse regions in Switzerland. These idyllic spots and activities will amaze you not only for their diversity, but also for the warm welcome given to you from their hosts.
The adventure between the shores of Lake Geneva and the snowy peaks of the Alps.
Situated at the extremity of the Wallis (Valais in French) side of Geneva Lake (Lac Léman in French), this region is surrounded by alpine peaks. The most famous of these, the Glacier 3000 reach 3'000 meters (9'842.5 ft) and the Dents du Midi reach 3'257 meters (10'685.7 ft).
"Les Portes du Soleil" is the largest ski area in the world, which boasts 650km of ski slopes and 209 ski lifts.
The Prealpes region each displays a city or village of unique charm. Many activities are at your fingertips in the Chablais, for example: water sports, thermal bathing, skiing and snowboarding, mountain biking, hiking, alpine races, as well as leisure parks and amusement parks, cultural events and museums, all in breathtaking panoramic scenery.
Easily accessible by car or bus on the highways, the Chablais is also accessible by train or boat and is only an hour away from Geneva's international airport 'Genève-Cointrin'.

Highlights:
Cable car in Les Diablerets (Winter & Summer ski) - Leysin - Villars - Champéry
Skating rinks in Leysin - Villars - Les Diablerets - Monthey - Champéry
Snow Park in all mountain resorts
Walking & Hiking and Mountain biking & Touring
Snowshoe excursions, historic visits, thermal baths in Lavey-les-Bains and Val-d'Illiez, beaches in Geneva-lake and more…