In short
people:
453000
language:
81,02 %
18,98 %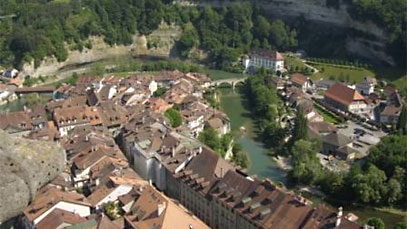 Countryside of Suisse Romande
The Countryside of Suisse Romande (plateau suisse in French or Schweizer Mittelland in German) constitutes one of the four major landscapes in French-speaking Switzerland alongside the Jura Mountains, Lemanic Region (Lake Geneva Region), Prealpes Region and the Alps. It comprises the region between the Jura, Lemanic Region, and the Gruyere-Pays d'Enhaut, partly flat but mostly hilly, and lies at an average height between 400 and 600 meters (1'312.35 and 1968.5 ft).
The Countryside of Suisse Romande is well to tourism and is a transit region. There is city tourism in the major cities with their touristic attraction, especially the cities of Fribourg, Bienne, Neuchâtel and Yverdon-les-Bains and historic medieval cities of Morat (Murten in German), Estavayer-le-Lac and Fribourg (old Town). The lakes also attract tourists, Lake Neuchatel, Lake Morat and Lake Bienne (Biel in German).
The domination vegetation in the Countryside of Suisse Romande is mixed broadleaf forest with European beeches and firs.
In the south-east Countryside of Suisse Romande, there is no clear border with the Alps. Usually, the rising of the terrain to altitudes above 1500 meters (4'921.25 ft), which is very abrupt in certain places, is taken as a criterion for delimitation. The region of the higher Countryside of Swiss Romande plateau, especially the hills of the canton of Fribourg, is considered to form the Swiss Alpine. In the southwest, the Swiss plateau is confined by the Lake Geneva.
Many cantons of French-speaking Switzerland include a part in the Swiss plateau. Situated within the Countryside of Swiss Romande are the cantons of Fribourg, Bern (mostly situated within the German Switzerland), Neuchatel and Vaud.
Because of the comparatively easy topography, the transport network is highly developed. The most important transversal, so to speak the backbone of the Countryside of French-speaking Switzerland, is the A1 motorway that connects all the big cities going from Geneva over Lausanne, Bern and Zürich. The A12, the Swiss north-south axis, crosses the plateau from Vevey, Fribourg, Bern and Zürich.
The railway network is very dense. All major cities are connected, and between Zürich (Economic Capital of Switzerland) and Lausanne there are two main lines: One passing by Bern (Capital of Switzerland) and Fribourg, the other passing below the edge of the Jura with Solothurn, Biel (Bienne in French), Neuchâtel and Yverdon-les-Bains. The train ride from Zürich to Geneva, by Bern, takes two hour's and 45 minutes.

Highlights
Historic Cities - Morat (of German Murten) and Estavayer-le-Lac
Old Town - Fribourg
Three Lakes Region